From eerie crater lakes to travertine terraces, the earth has a knack for bringing out surreal landscapes. Some of the most amazing and strangest features are formed via volcanic processes. 
As basaltic lava emerges on the floor of the earth and cools down, fascinating geometric features form. Incredible hexagonal basalt rock columns will often form giant cliffs that can get as high as possible.
These attractive features can be found all over the world. It is so intriguing to see beautiful features formed after lava flow even after so many years. 
Basaltic lava is responsible for these formations; it usually is hotter and moves faster. The entire process is known as columnar jointing. This article investigates insights on some of these remarkable features and the stories surrounding them.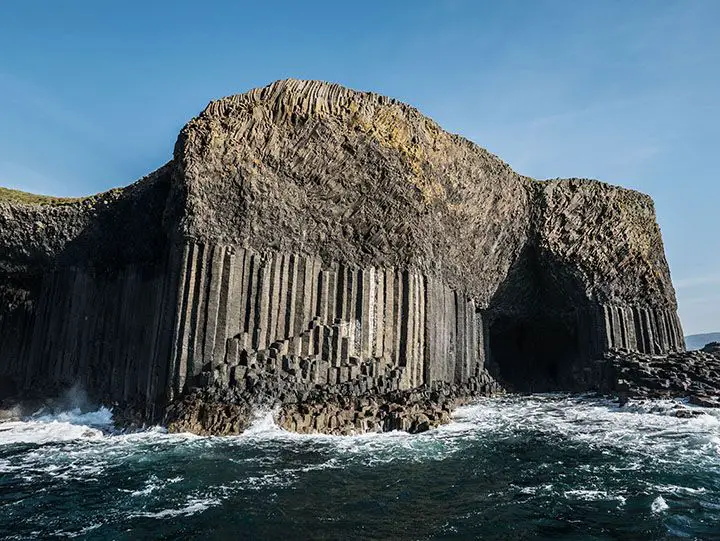 1. Fingals Cave, Staffa Flow
Found off the coast of Scotland, Fingals cave is just across the sea from the Giants Causeway and can be seen on a clear day. The Isle of Staffa was formed from the same lava action that created the Giants Causeways around 50 million years ago.
The name 'Fingal' originally comes from an Irish myth, where the hero Fionn MacCumhaill's or Finn McCool (shortened to 'Fingal', meaning 'white stranger') and his faithful warriors migrated into Scotland from Ireland.
The legend is that Fionn built the Giant's Causeway, which is identical to Fingal's Cave, after a challenge to fight a Scottish Giant Bennandoner. He soon became famous across Scotland, making his name the obvious choice.
2. Fingals Beach Headland, NSW Australia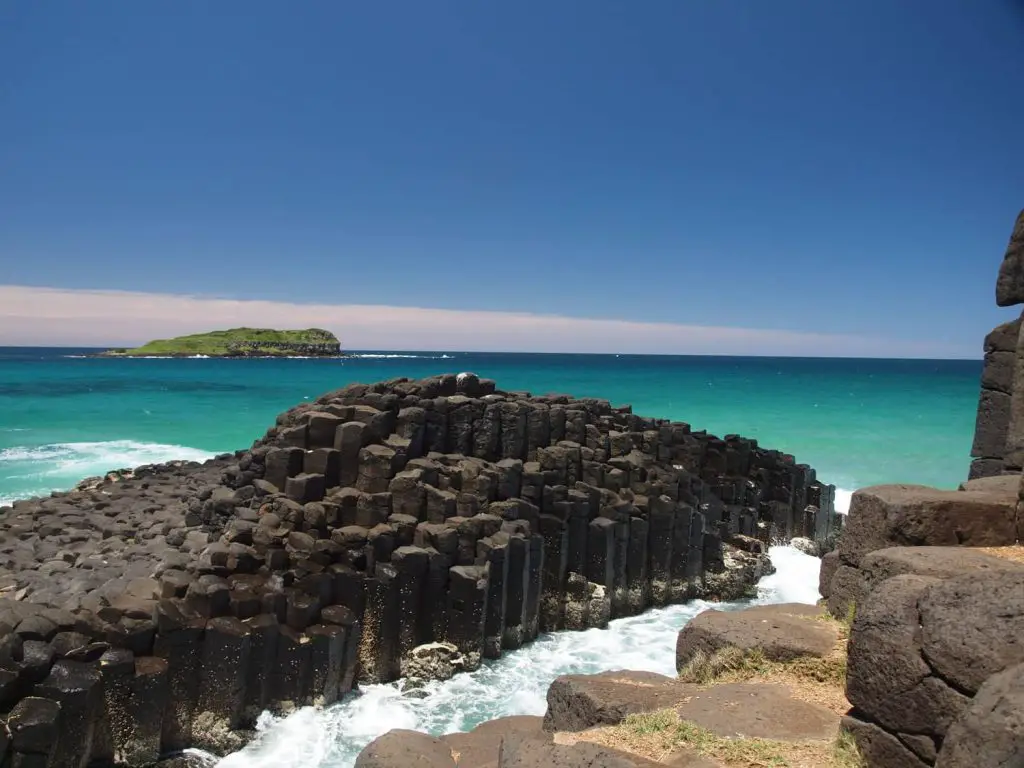 Fingal's Beach Headland is a magnificent geological formation located on the north coast New South Wales
At Fingal's Beach Headland, nature has crafted its own masterpiece, similar to the Giants Causeway. The headland showcases stunning hexagonal basalt columns, just like its more famous relative. These extraordinary columns result from volcanic activity millions of years ago, where rapidly cooling lava formed characteristic hexagonal shapes.
While not as extensive as the Giant's Causeway, Fingal's Beach Headland still boasts an impressive display of these geological wonders, creating a breathtaking sight for visitors. The area surrounding the headland is adorned with dramatic coastal cliffs, providing a picturesque backdrop to the incredible rock formations.
Both locations are steeped in folklore and legends, with the Giant's Causeway being associated with mythical stories of giants, and Fingal's Beach Headland also having its own local tales that add to the allure of the place
Thanks to Brent from Brownsigns.net.au for letting us know about this amazing place.
3. The Hexagon Pool, Israel
Also known as Breichat HaMeshushim, this hexagon pool in Israel is enclosed by a conserved forest found at the bottom part of a grand canyon. 
The stunning Hexagon Pool is a sought-after destination in the northern part of Israel for swimmers and hikers. The formation of this pool was quite phenomenal as it was formed after water flowed over the igneous rock that had cooled down.
David Brooks once described the hike via the forest to the pool as "a little treacherous at times," but the scenery is quite captivating and worth the effort. The scene is merely magical, and every photographer would die to capture these fascinating views.
4. Svartifoss Waterfall
The Vatnajokull National park in Iceland, also known as Black Fall, encompasses an astounding waterfall on beautiful dark columns. Iceland is known to feature numerous basalt columns because of the multiple igneous formations and several volcanoes.
They are all captivating and spellbinding with every new pillar you come across. However, it is not advisable to jump to the bottom of the fall, unlike in Hexagon Pool. At the bottom of the fall are sharp rocks that are as a result of the fallen columns making it very risky. 
Photographers will also capture magical shots here as it is one of the ideal places for photography in Iceland.
5. Devils Postpile California
National park service categorizes this feature in California as "one of the world's finest examples of columnar basalt." The national monument goes reaches to a height of 60 feet and has an unusual symmetry. 
This beguiling feature appeared as a result of impeded lava vent. The vent led to the creation of a vast lake, which later cooled down and resulted in the formation of the hexagonal columns visited by numerous tourists all year round.
6. Takachiho Gorge Japan
The enchanting green gorge in Japan is unique since the columns rise to more than 300 feet above the ground and also a bewitching hue. 
Plants have grown down the columns found in this place because water runs through this region all the time. A riveting waterfall (Manai waterfall) continuously erodes the rock, and tourists can experience this fantastic view from the small lake below the columns.
7. Cape Stolbchaty Russia
 Located on Kunashir Island, this basalt colum or pillars can be seen on the Kuril Islands of Russia.
The columns can be seen while you are at the Sea of Ohotsk just along its coastline. Cape Stolbchaty columns are estimated to be have existed for 50 million years, and are a UNESCO world heritage site like the Causeway.
Tourists can observe a magnificent geometric site as they do tours along the top of these columns.
8. Basalt Cliffs South Korea
Jeju Island is a volcanic Island found in South Korea. Massive basalt pillars can be discovered on this Island. Jusangjeolli cliffs provide visitors with spectacular views of the columns as they dropdown. 
They were formed more than 100,000 years back because of volcanic activities. Jusangjeolli cliffs are the most beautiful and mysterious cliffs in South Korea, according to The Jeju Weekly.
9. Los Prismas Basalticos Mexico
Los Prismas Basalticos, located in Hildago, Mexico, can be observed in a gorge, and they are popular because of the delightful waterfall that traverses over them. 
Standing nearly 100 feet above the water below, the rocks have been shaped to appear like lumpy steps by the ever-flowing stream. 
Tourists can experience immersing experience by climbing on the rocks and cooling off at the waterfall.
10. Los Organos Spain
Impossibly daunting and immense, these giant columns are named "pipes of the musical instrument." It is apparent why these phenomenal columns were named that way. 
The rocks rise to 2,000 feet, and they can be observed on the Canary Islands. Los Organos is genuinely a geographical prodigy worth seeing. 
11. Ghenh Da Dia Vietnam
These columns may appear tinier than the others on this list, but their spectacular formation and quick view make them among the best columns worth a visit. 
Found in Vietnam, Ghen Da Dia column rocks form a star design, unlike the other columns which form hexagons.
12. Zlaty Vrch Czech Republic
Located near the southeastern border of the Czech Republic with Germany, these beautiful columns provide visitors with picturesque views. A range of mountains orchestrates this region with magnificent columns formed years back.
 This range of mountains consists of sandstone sedimentary rocks forming a crystalline basement. During this formation, lava broke through the sandstone and solidified to create basalt columns leading to the creation of this great feature in the Czech Republic.
13. Reynisfjara Beach, Vik Village, Iceland
These gorgeous cliffs can be visibly seen below the Reynisfjall Mountain. These columns can be found at the rear end of the mysterious black sand beach. Columns here rise to 66 meters above the waters. Reynisdrangar acts as a trademark for Vik in Myrdal, which is a village in Iceland.
 It is believed that two trolls had been pulling a ship to the beach, but they were not successful. The elves were ambushed by sunlight in the morning, and they now turned into stone according to myths about trolls getting caught up by sunlight at dawn
14. Penghu, Taiwan
A basalt rock formation that resembles a city wall and also looking like monoliths on land can be observed on the Taiwan Strait. The wall is 10 meters high and 200 meters long in the water. Columns here resemble numerous pillars that have been put together.
 The basaltic features are a tremendous phenomenal since most of these features are seen above the water, but this is underwater. Visit this great feature in Taiwan to enjoy the great sensation.
15. Flores Island, Portugal
Flores Island is found in the Western group of Azores. If there is a place you should visit, is this enchanting place. This Island in Portugal is characterized by an extremely rugged and heavily indented coastline. Flores is known to have magnificent waterfalls, streams, and striking columns.
 The Island is tiny, and you can discover it in a short period. Explore the beautiful landscapes of this fascinating Island as you walk at the top of the basalt pillars. 
16. Litlanesfoss, Fljotsdalur valley, Iceland.
Litlanesfoss is the waterfall you will encounter as you move upstream to Hengifoss. It is notably the most exciting waterfall and geological phenomenon that one could ever find in Iceland. 
Spectacular columnar basalt outcrops the waterfall and stands at 125 feet above the ground. What happens at the lower tier. The waterfall and the columns do form the most magical phenomena in Iceland worth your time and money. 
Litlanesfoss is by far the most scenic waterfall orchestrated with the wondrous columnar jointing.
17. Garni Gorge Armenia
Found 23 km just east of Armenia is an outstanding gorge with quite a dramatic topography. Along the sidelines of this gorge are fantastically arranged columns of basalt that were carved out by a river that cuts through the canyon known as Goght River.
 The area is simply a ravine made of cliffs of hexagonal volcanic rock columns. The locals around this region call this place "Symphony of the stones." This spectacular area in Armenia provides visitors with hiking opportunities while enjoying beautiful sceneries.
18. St. Mary Island India
The St. Mary's Island in India is also called Thonsepar and Coconut Island. They are four tiny Islands found on the coast of Malpe, Karnataka, India. These islands are famous because of the columnar basaltic lava that was formed as a result of volcanic activities. Studies have shown that the basalt here was created as a result of sub-aerial subvolcanic.
 These four islands comprise of igneous rocks that have an acidic composition, including rhyolites, dacites, granophyres, etc.
19. The Sea Cave, Akun Island, Alaska
Located on the famous Akun Island, this cave houses the columnar basaltic rocks in it. Akun is among the Fox Islands subgroup. They are typically found in the Aleutian Islands in the southwest of Alaska USA. The Island is full of basalt and sea caves altogether. Visit this place and get to see what nature has to offer on this side of the world.
20. Kirkjugolf Iceland
Also known as The Church Floor, this area covers 80 sq meter of columnar basalt that are shaped and eroded by waves and glacier activity. The place looks man-made, but there has never been a church at Kirkjugolf.
 As a result of volcanic activity, the basalt was formed. After cracks form on these rocks, they develop the hexagonal columns. It is potent to note that Kirkjugolf is a natural monument that is protected.
21. Studlagil Iceland
 Iceland is a geological wonderland that tops this list with the most basaltic places. Found in Jokuldalur valley, this is among the most magnificent basalt on earth. The basalt forms unique marvellous features giving you breathtaking views of the region. Cliff formation in this canyon feels like a cathedral.
22. Kalfshamarsvik Iceland
Kalfshamarsvik is typically a tiny bay found in the northern part of Iceland. Many rock formations found in this bay, will give you a magical feeling. Basaltic rocks located here provide all the magical moments of this spectacular bay. It is indeed a popular tourist attraction in Iceland.
23. Dverghamrar Iceland
Also known as Dwarfs Steep Cliff, this is among the fantastic gems in Iceland found around Ring Road. It is an ideal location for picnics and family tours. Basalt columns orchestrate this majestic place even though they are quite small.
 However, you should be vigilant as you walk along the columns since elves and small people could surround any time.
24. Arnarstapi Iceland
Snaefellsnes peninsula is a haven to visit because of the great features this place offers. Basaltic rocks found here provide the perfect arena for taking killer shots for photographers. The formations by the seashore are spectacular, and you can easily walk on the rock formations.
25. Aldeyjarfoss Iceland
A massive glacial river feeds this majestic waterfall. The river then falls from a bluff that has magical basalt pillars. Aldeyjarfoss is considered a fascinating waterfall in Iceland, orchestrating the impressive basalt pillars. It is a famous tourist hub in Iceland.
26. Gerduberg
 Found at the Snaefellsnes Peninsula, this cliff has so many basaltic pillars systematically arranged in an unbelievable way. From a far off distance, the cliff seems just like a typical mountain, but from an up-close view, you will experience all the hidden secrets of this beautiful place. Magnificent basaltic pillars appear here like they were arranged by someone some years back. 
Bottom Line
 These are the most evident basalt pillars found on earth. Magical and scenic views can be observed from these spectacular features formed as a result of volcanic activities. They are also fantastic tourist hubs that bring in visitors from all over the world to enjoy the magical moments at these columns.
Share this post