THE CAUSEWAY HOTEL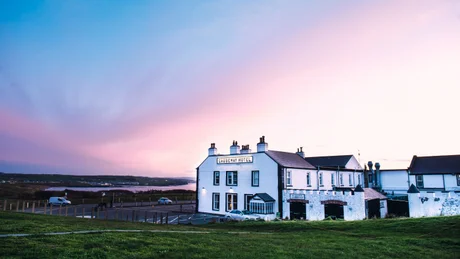 The restaurant located next to the Giants Causeway Visitor Centre, overlooking the Causeway Coast, serving contemporary dishes, and local food from northern Ireland's local produce from farm shops.
The Causeway Hotel gave off an inviting atmosphere and made us want to linger for longer than usual. It felt very fancy fine dining and made me feel very spoilt for Sunday lunch or traditional afternoon tea
The decor fits in beautifully with the history of the building, which dates back to 1842 – including tall window panes, antique brass light fixtures, ornate mantles, high-backed chairs, and delicate chandeliers dangling from the ceiling. The rooms we stayed in felt like they belonged in a castle but still exuded that sense of home.
The kids' menu with a fun title, "Little Giants." If you're familiar with me, you'll realise I'm a big fan of these small details. It's such an adorable name for a children's menu when visiting the Giant's Causeway.
When we ordered for our kids, they were offered some colouring books and felt pens to keep them entertained until their food came.
It was so lovely! The whole place had such a cosy feeling – the beautifully soft leather sofas and wonderfully purple high-backed armchair were inviting. I think you could chill out here for a bit after a long hike from the Giant's Causeway without any doubts.
Website – https://thecausewayhotel.com/
Phone Number – +44 (28) 2073 1210
THE SMUGGLERS INN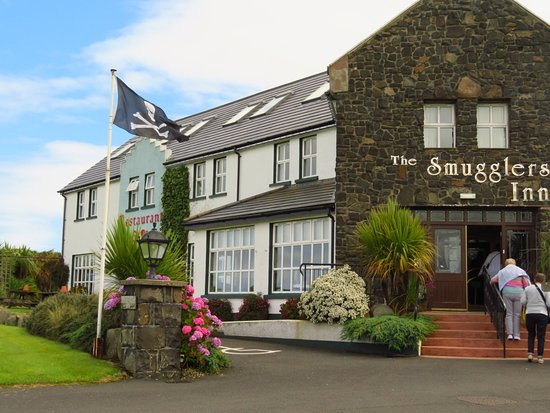 The Smuggler's Inn is situated in an idyllic countryside setting only two kilometres from the UNESCO World Heritage Site of the Giant's Causeways and Causeway headland and two kilometres from Bushmill's distillery.
Our inn is within easy reach of the historic town of Dunluce castle and several local golf courses, including Portballintraig (Bushfoot), Royal Portrush and Port Stewart.
Whether you're staying for a short break or extended holiday, we offer comfortable accommodation and friendly service. We provide a range of facilities, including wireless internet access, TV, DVD player, games room, children's play area and secure off-road vehicle storage. You can also enjoy a meal in one of our restaurants or take advantage of our bar menu.
MINI MAEGDEN, BUSHMILLS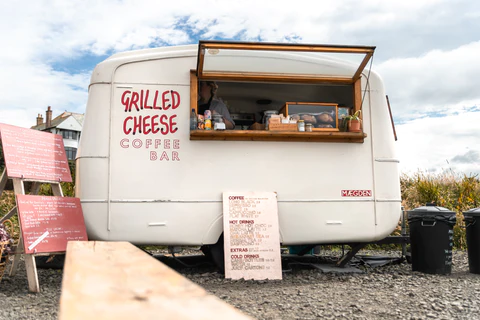 It's hard to beat a good grilled cheese sandwich at any time, but if you're looking for a particularly delicious one, look no further than Maegden. Served from a 1950's caravan pitched up in a field a stone's throw from the Giant's Causeway and one of the best places to eat after your walk down to the stones. Using
Maegden (pronounced May-den) produce absolute perfection when it comes to toasties sandwiches/grilled cheese that is made with love and flavoured with some of the best local produce from Northern Ireland, the two girls produce absolute perfection when it comes to toasties.
There's plenty of seating and site parking at Maegden for you to relax and take time out on the causeway coast. It opens every day from March to October between 11:00 and 17:30 but closes on Tuesday afternoons.
We recommend leaving space between the last bite of a toastie and the first sip[ of Bushmills whiskey on the distillery tour
Dogs accepted as well, with facilities catering dogs and other pets
Website – http://www.cheesemaegden.com/
THE BILBERRY MILL CAFE, BUSHMILLS
The Bilberry Mill Cafe in Bushmills High street, just across from the park and ride to the Giants Causeway, is one of our Favourite places to eat. They have a great selection of tasty treats with traditional and contemporary dishes.
On a damp day, its a great place to get a cuppa and a bite to eat before heading to the Causeway and on sunny days, you can enjoy the sun on your face outside in their pavement seating area and watch the world go by.
You'll be glad to know dogs accepted here, and you will find the restaurant owners full of Irish hospitality for your whole family.
Website – https://www.facebook.com/bushmillsdiamond/
Phone – 028 2073 2560
THE BUSHMILLS INN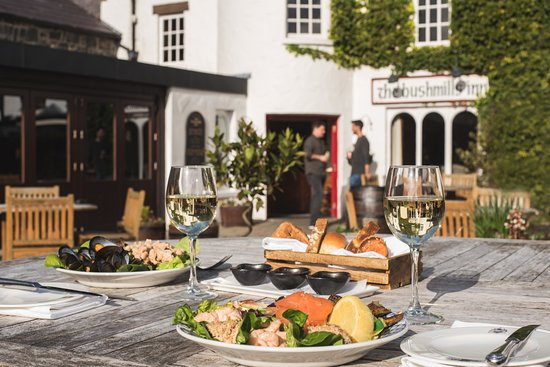 Visitors will enjoy the Irish charm at Bushmills Inn. Still, they might also want something different than oak-panelled walls and peated wood fireplaces. Next door is the light and airiness of the French Room restaurant.
Undoubtedly one of Northern Ireland's best places to eat for food lovers, stop on the causeway coastal route. With a mix of fine dining, Sunday lunch, afternoon tea and sample some of Northern Ireland's and the causeway coastal route fine food and local produce
The French Huguenot community has left its mark on the area by contributing to the local economy. It would be lovely to visit again for a cup of tea or coffee and some cake.
Website – https://www.bushmillsinn.com/
Phone – tel: 028 2073 3000
BROUGHGAMMON FARM, BUSHMILLS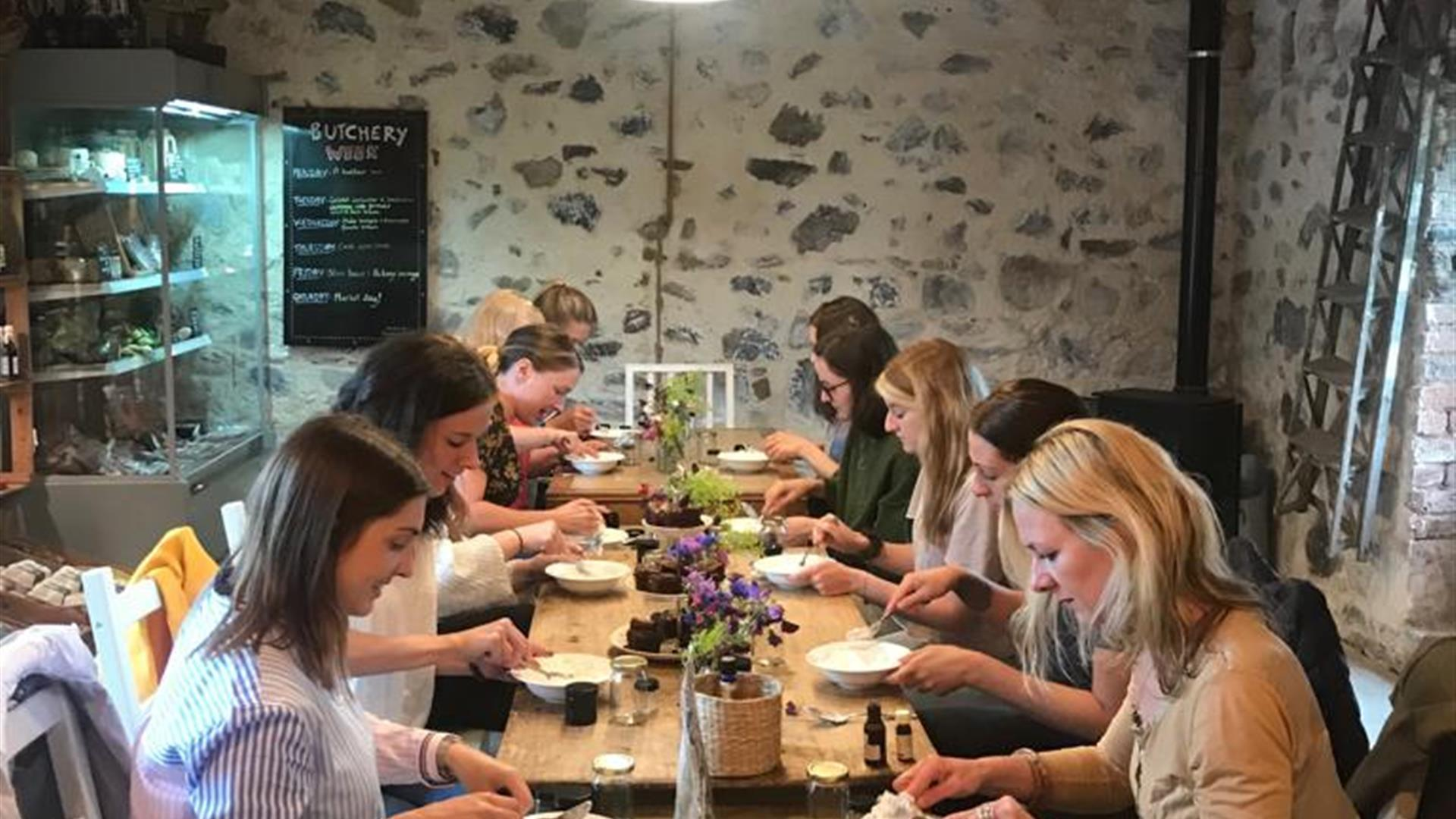 On the way along the causeway coastal route to Ballycastle, the Glens of Antrim, stop by Broughgammon Farm outside Ballycastle. The owners, Becky and Charlie Cole, run their farm shop and cafe, a hidden gem that sells locally sourced meats and local produce. And they have a blog where they share tips about seasonal living on their county Antrim land.
Make sure to visit their goat herd in their barn, where they had lots of fun and mischief, chewing my hands and looking at me with curious gazes. It was great for all the family.
Artisanal farmers like Becky and Charlie in northern Ireland sell their products at local marketplaces, farm stores, and delis along the causeway coast.
They offer cookery courses and classes for people who want to learn about farming, cooking, and growing vegetables.
Website – https://www.broughgammon.com/
Phone – tel:%20+44%207976270465
BABUSHKA, PORTRUSH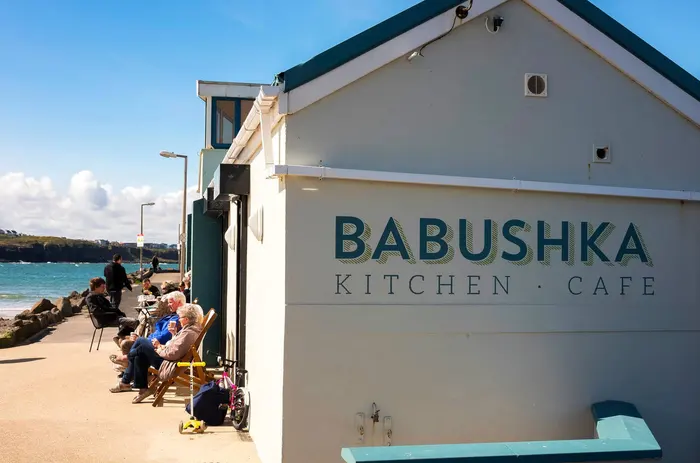 Set on the dock in Portrush Harbor, smack dab in the middle of the harbour, in an old Lifeboat Station, is the perfect place to rest your feet after a day spent exploring the Causeway Coast. This isn't your average coffee shop offering good food in northern ireland.
This café takes what they do seriously and puts it in a location where people can enjoy it without going far. With Koppi being the roast of choice here for owner Georges Nelson and his staff, its the best option in port if you want something delicious and fresh with a spot of Irish hospitality.
They also serve breakfast and lunch, so you can grab a bite before or after your walk around the area. As you can see from the picture its not very big so gets filled up fast, especially on cooler days. However, the on the sunny side you get a great seat out of the wind.
You can also find facilities catering dogs outside
Website – https://www.babushkakitchencafe.co.uk/
RAMORE, PORTRUSH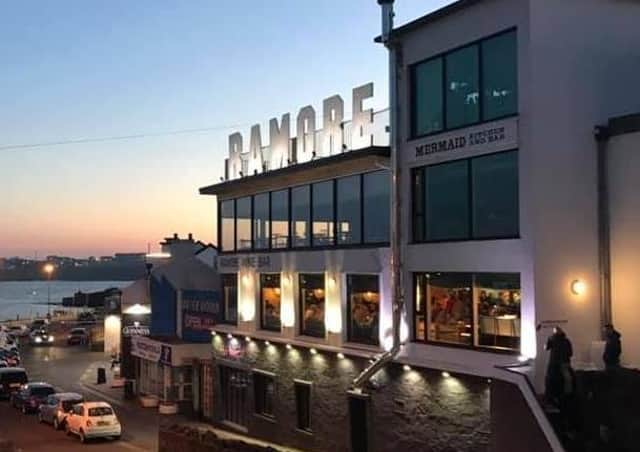 There'll be one for everyone at the Ramore Group's harbour event. Six different restaurants and bars catering to different tastes, but most importantly: Bringing loads of people to the County Antrim seaside village.
The Wine Bar
With a lively atmosphere and contemporary menu, The Wine bar is one of the highlights of any social savvy crowd, as testament by the long queues to get a shared table and the extensive menu. Many a selfie will be had on a night while "Ramoring" in Northern Ireland on the Causeway coast
The Harbour Bar
The Harbour Bar is one of the oldest bars in town, serving delicious pints and showcasing an impressive gin collection upstairs.
The Harbour Bistro
The Harbour Bistro downstairs has an excellent modern feel with indie tunes playing and a wood-fired oven turning out mouthwatering pizzas.
Neptune & Prawn
Neptune & Prawn serves Asian-influenced dishes with a twist and caters to kids with play areas and family meals.
The Mermaid
The Mermaid is a relaxed all-rounder offering everything from breakfast to dinner, with a great range of menus and prices.
The Tourist
The Tourist is their fast food option with burgers, pizzas and Mexican street food. And if you fancy something a little bit special, head to the wine bar. Full details of each venue can be found online.
Website – https://www.ramorerestaurant.com/
CENTRAL BAR, BALLYCASTLE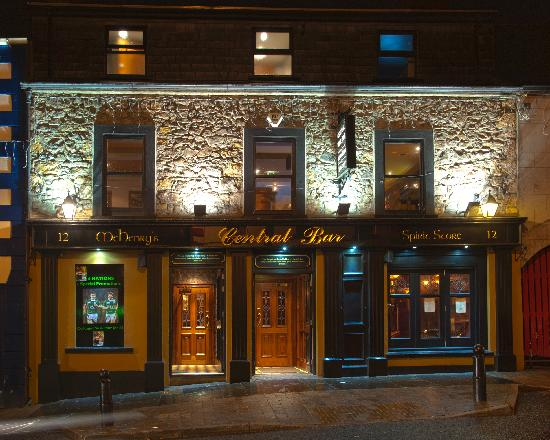 You really can't beat a trip to the Central Bar in Belfast. With warm Northern Irish hospitality, the menu is always popular. Using locally sourced food, you can expect a traditional steak from the local butcher, fresh fish and chips and a stylish cocktail bar on hand.
So whether you're after a fun night out or just an informal bite to eat, the Central Bar should tickle your fancy!
Website –
MORTON'S FISH AND CHIP BAR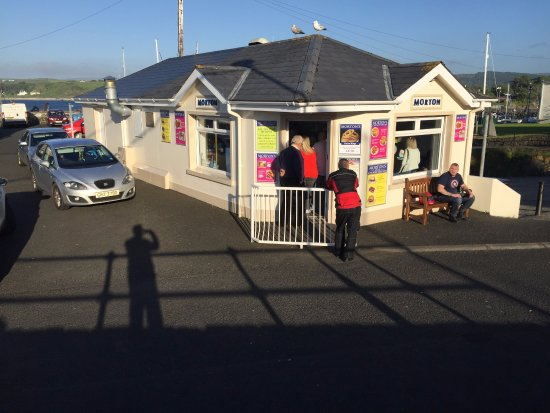 This Ballycastle institution, situated on the harbour, is renowned for the best fish and chips on the Causeway Coast if not Northern Ireland.
The family own their own fishing boats and also have a fishmonger selling the fresh fish next door so you can be sure that the fish is ultra-fresh and cooked to order.
Locals travel miles to buy fish and chips here and sit eating it with a view of the harbour.
URSA MINOR BAKEHOUSE, BALLYCASTLE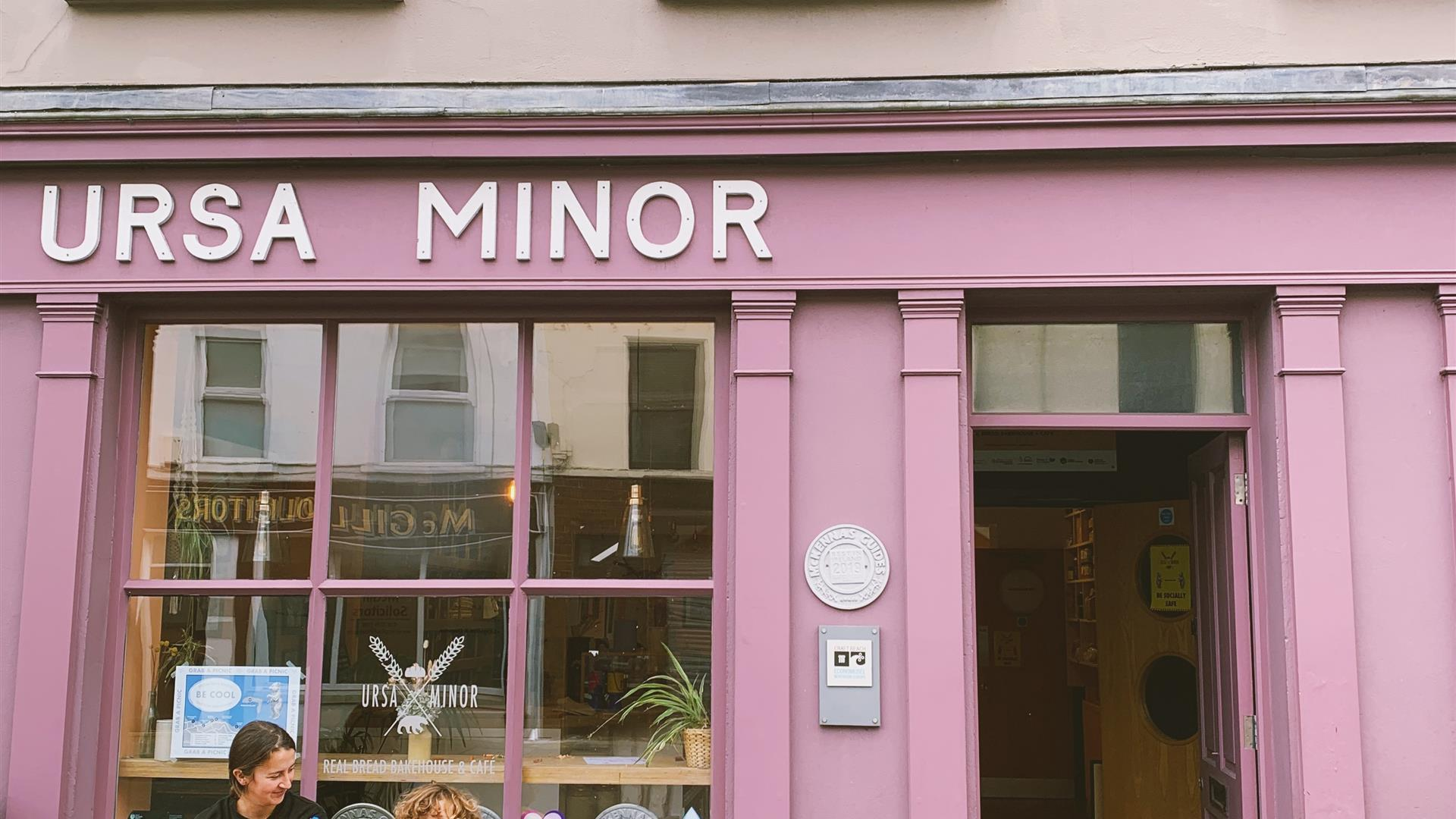 There is only ever so much space in any given area, so it was inevitable that the North Coast would end up with a baker specialising in baked goods.
In Ballycastle, there is only so much room for a cafe serving delicious food and warm drinks. Here, it is no secret that a slice of freshly baked bread is the best thing to eat.
But it is also not a secret that Ursa Minor is the best place to get such a loaf. With a menu full of tasty treats, it is clear that Ursa Minor is a place where people come to enjoy themselves.
And suppose you are lucky enough to find yourself in Ballycastle. In that case, you can take advantage of the excellent service and tasty food at Ursa Minor.
HARRY'S SHACK, PORTSTEWART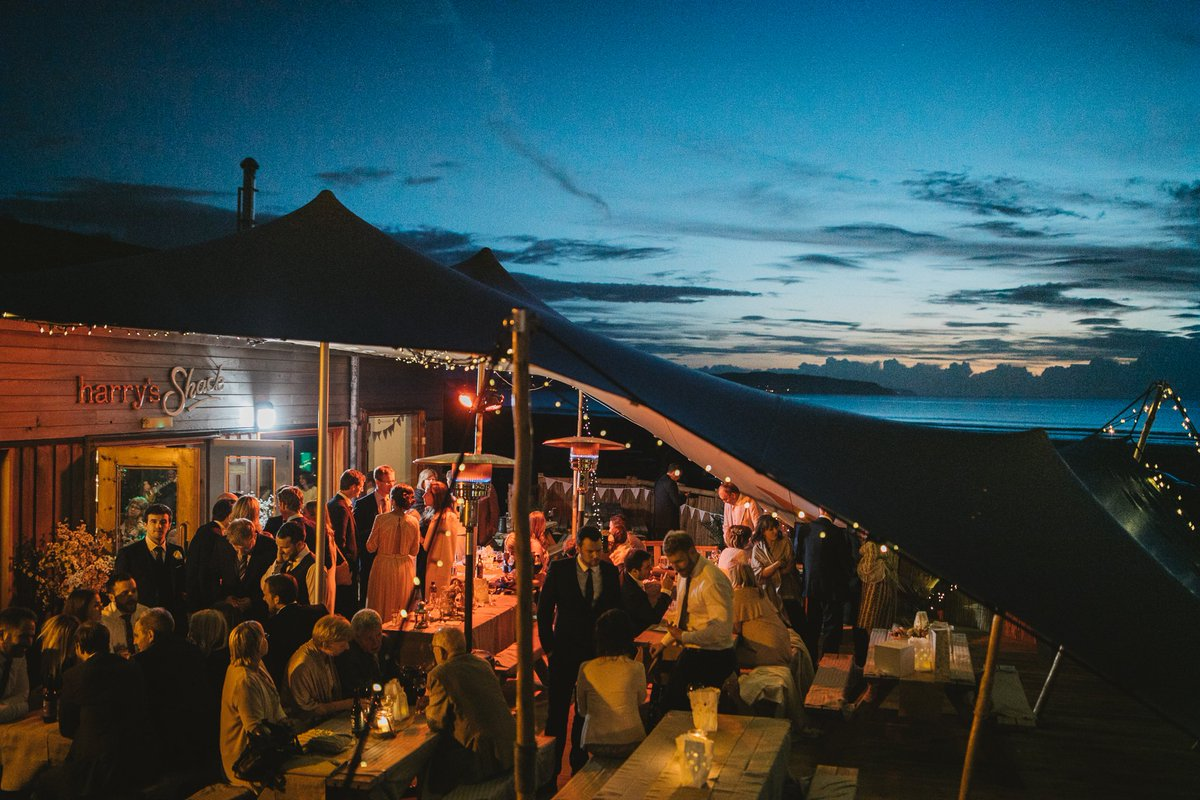 It was a surprise to see Harry's Shack on the beautiful North Coast of County Antrim, but not a shocker. I'd heard so many good things about Harry's Shack that I had been determined to go there and managed to squeeze it into a trip to Mussenden Temples and the Giants Causeway.
One of the places to eat, The Shack is an outdoor restaurant overlooking the sea where you can enjoy delicious seafood dishes with organic ingredients. I was shocked by the food quality at the Shack because I had expected mediocre fare.
Harry's Shack is a place I would go back to, and it's also one of the better places to eat near the Giant's Causeway. It manages to be family-friendly and pleasing to serious eaters of all ages.
A rustic seaside style with simple dishes cooked very well and an extensive wine list..also car parking on the beach was fun.
One of the best restaurants around with live music on a Saturday night its one of the idyllic places to watch the sun go down on the causeway coast in Northern Ireland and