Places To Stay Near The Giants Causeway
There is accommodation for every budget, from boutique guesthouses with panorama and luxury hotels to rustically styled glamping and campsites.
The Causeway Coastal route in Northern Ireland offers an abundance of exciting things to do, historical sites, geological wonders such as the Giant's Causeway – UNESCO World Heritage Site, cosying cafés, vibrant bars and mouthwatering restaurants. You could easily spend days exploring every nook and cranny along this beautiful coast.
But if you're short on time, why not make the most of the weekends? With plenty of accommodation options to choose from, you'll find yourself spoilt for choice. So whether you fancy glamping under canvas or staying in luxury lodges, you can guarantee you'll get the best deal along this stunning coastal route.
Here are our favourite places to stay near the Giant's Causeway:
The Causeway Hotel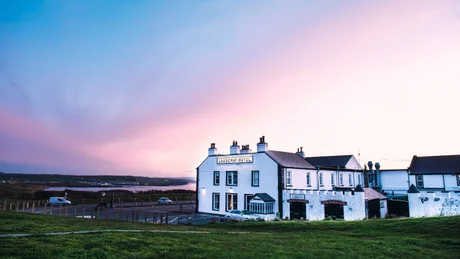 Price From
You can't stay much closer to Giant's Causeway than at the Causeway Hotel. The Causeway Hotel is located right near Giant's Causeway Visitors Centre and just a short walk to the head of the footpath that winds its way down to the hexagonal rocks.
Both the Causeway Hotel and the Giants Causeway Visitor Centre are run by the National Trust for Northern Ireland North Coast
The Giants Causeway hotel itself is a little piece of history, too. Now a Grade II-listed building, it was first constructed in 1836 and was the first and still one of the best hotels near where visitors to this stretch of coastline could stay.
Rooms facing the Atlantic best have panoramic views across the north coast past Dunluce Castle and Portrush toward Portstewart Strand for their sunset coastal sea views.
The hotel offers free parking, which is handy when it's normally $8.50 per day to park in the visitor Centre, free wifi and is only a stone's throw from the main event making the Causeway Hotel the perfect location for visiting the Giants Causeway or just Northern Ireland in general.
Bushmills Inn, Bushmills
PRICE FROM:
Just a short trip down the road from the Giants Causeway hotel is one of the most well-known hotels in Northern Ireland. The Bushmills Inn is a historic building which has been updated into an upmarket boutique hotel. The current owners have created rooms that retain their original features from its days as coaching inn in the 17th century.
The name Bushmills may well precede it, thanks to the town's well-known Bushmills whiskey distillery, just a short walk up the road. Try a tipple at the classy wood-panelled bar of the Bushmills Inn, Rooms range from a hayloft snug double room to larger rooms with four-poster beds. The inn even has its cinema.
Blackrock House, Portrush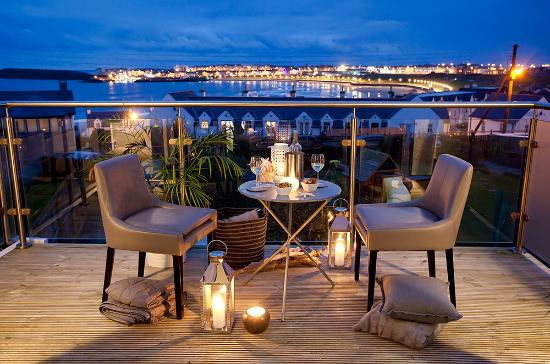 Price: From £145 per night (3-night minimum stay)
In the bustling city of Portrush, BlackRock House provides boutique bed & breakfast accommodations that fuse modern style with laid-back coastal life. This is the perfect relaxing retreat after a busy day, boasting panoramas of the golden beaches across the wild Atlantic ocean. Hearty breakfast is served to refuel you for a busy day tomorrow, while the cosy lounge is the perfect place to curl up with a good read when you return home. And as for your private balcony in summer, it's the ideal spot for sunset drinks!
The Carrick, Portrush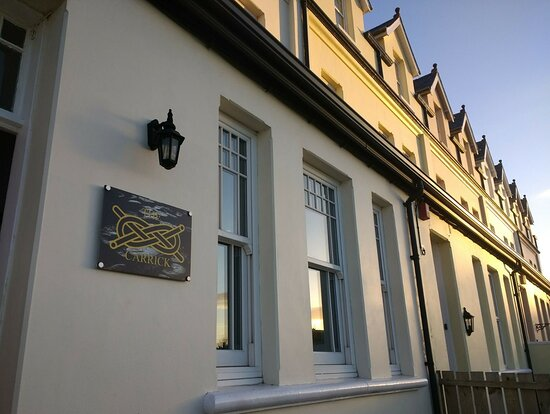 PRICE FROM:
The Carrick sits in the beautiful seaside town of Portrush, on the stunning North coast of Northern Ireland. The Edwardian townhouse dating back to 1905 has been sympathetically renovated to the highest standard to create this Luxurious B&B. With many of the building's original features maintained while incorporating every possible modern convenience, we guarantee you a wonderful stay and the perfect spot to explore everything the North coast offers, including The Giant's Causeway and nearby Game of Thrones film locations. Only 1.2 miles from Royal Portrush Golf Club, home of the 148th Open Championship. Bookings can be made directly with the property or via the website.
Elephant Rock, Portrush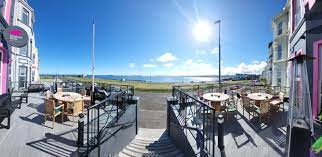 Price: From £120 per room per night
This beautiful 18-bedroom Victorian terrace was built in 1920. It features stunning sea views and has been extensively refurbished to create an elegant, sophisticated, glamorous atmosphere. It's located in the centre of Portrush, so it's also home to one of the best restaurants- open for breakfast, lunches and dinners.
The Salthouse, Ballycastle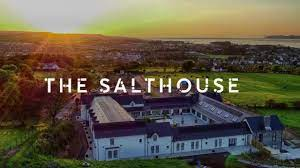 Price: From £160 per night
This five-star hotel offers 24 stylishly decorated rooms and suites, a relaxing spa and laid-back bar, and a fine dining restaurant.
Located in its private grounds in the heart of the beautiful Antrim coast, The Salthouse overlooks the rugged cliffs of Ballycastle, the picturesque town of Fairhead, and beyond.
Bayview Hotel, Portballintrae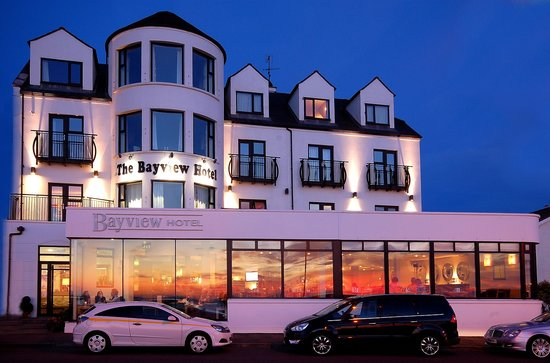 Price: From £169 per night
The Bayview Hotel is located in the picturesque village of Portballintrae. It has an open fire and an expansive view from the balcony. Its Porthole Bar and Restaurant is ideal for relaxing after an adventure along the Causeway Coast.
Me & Mrs Jones, Portstewart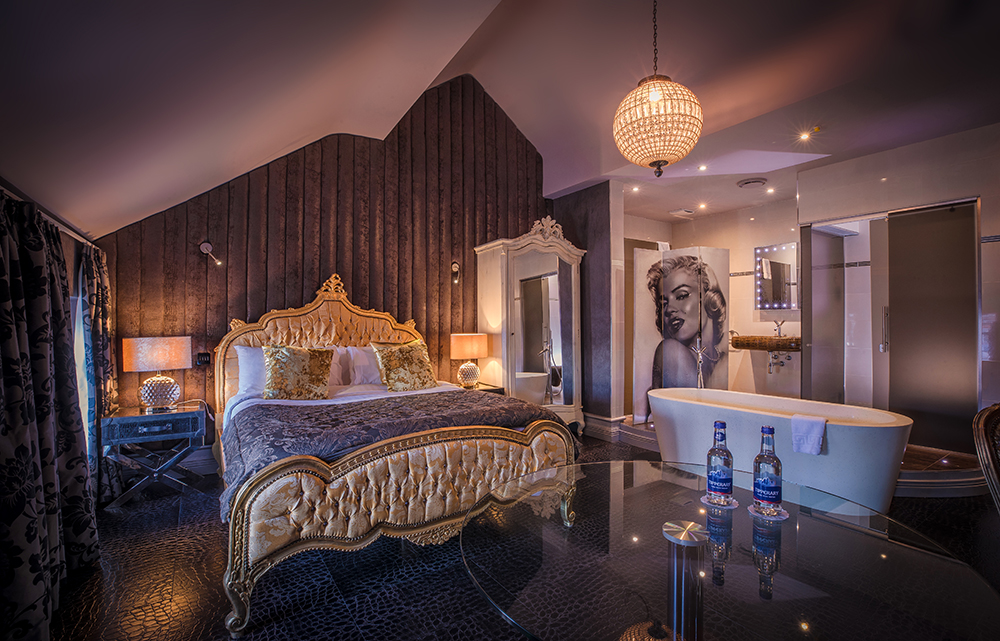 Price: From £150 per night
Located in the seaside town of Portstewart, this boutique guesthouse offers comfortable accommodation for guests who want to enjoy the sights and sounds of the area. It also serves up a delicious meal at its award-winning restaurant. Overlooking the "Prom" towards Portstewart Strand beach, this is the perfect base to explore Portstewart after your trip to the Giants Causeway
Ballygally Castle, Ballygally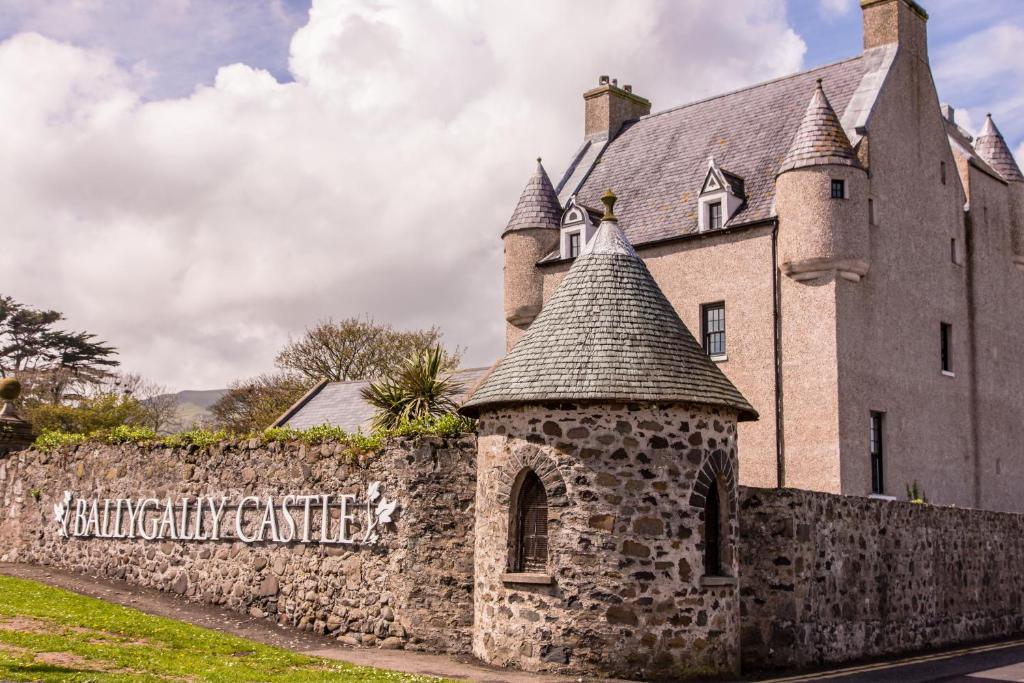 Price: From £119 per night
Perched on the edge of the famed Causeway Coastal Route lies Ballygally Castel, an impressive 17th-century fortress overlooking Ballygally bay. Said to be haunted by a ghostly presence, the accommodation is home to a spooky Ghost Room and Dungeon. Other parts of the building offer beautifully appointed guest suites with stunning ocean vistas. The Garden Restaurant overlook the gardens and serves excellent food.
Carnside Guest House
Prices From
Carnside Guest House is on an elevated site with spectacular views of the Giant's Causeway (a UNESCO World Heritage Site), Portrush and Donegal. 10-minute walk to Giant's Causeway and three restaurants.
Carrick-a-Rede Rope Bridge, Dunluce Castle and Bushmills Distillery are nearby. This area is a walkers paradise, and Carnside is an ideal base for a three-day walking holiday or for those wishing to have a relaxing holiday.
Ballyvoy Camping Barn
Price: £25 per person per night
This is the perfect place for those who are on a tight budget. This cute little Barn in the tiny hamlet of Ballyvoy is much better than staying in a regular hostel. Each room has a comfortable bunk bed and ensuite bathrooms, while a large kitchen/dining room is the perfect place to hang out with friends.
Or, you could just head across the street to Hunter's Restaurant, where they serve delicious food at affordable prices. And Barnish Cafe is right next door, so you can grab something to eat after your hike.
Captain's Cottage
Price: £140 per night
It's on the Causeway Coastal road, from Larne to the Giant's Causeway. It's a lovely place to stay if you want peace and tranquillity. You can take walks in either direction, visit the Giant's Causeway and the nearby town of Ballycastle, or even go surfing!
The cottage has two bedrooms – one double and one single. It converts into a king-size bed.